Updated Dec 15, 2017
​

These are my newest additions: All are restored in working condition, all have 14 K nibs - from left to right:
1. Artus ((Lamy) piston filler, - medium nib with good flex. Ambered ink window, 4 3/4 inches long. $125
2.Chilton Art Deco Wing Flow, very rare "y"pattern, slim version, 5 inches long, fine wing flow nib. Really nice condition, $Sold
3. Chilton Wing Flow Chrysler 100 Club, maroon celluloid pen with a gold emblem on the back of the cap, rare. Fine nib with flex, Another rare one!! Sold
4. Seth Crocker, very unusual, unique color, fine flexible warranted nib (correct). $450
5. Eversharp Doric #9 adj nib (rare band), has a matching pencil (even more rare), medium flexible nib that adjusts from medium to broad, $650
6. Conklin #7M, Burgandy and gray marbled, beautiful 2 tone medium nib, ambered ink window, but good visibility. Round Sold
7. Parker Maxima Blue, rare, has a name inscription. Fine two tone arrow nib, Sold
8. Le Tigre (by Conway Stewart) Cracked Ice, nice shape, beautiful CS clip, some brassing on the lever, Le Tigre nib that is fine to medium with good flex, Le Tigre was produced by Conway Stewart for continental Europe - Sold
9. Aurora Optima (1930s) #6 14k nib, rare and beautiful, greatvery flexy nib Sold
10. Pelikan 100 in black, firm fine nib, smooth writer. $250

Questions or purchase? Email me at daynix@aol.com
Welcome to Dayne's Vintage Fountain Pens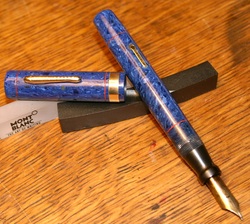 Specializing in Vintage Fountain Pens and Pencils from all over the world - all restored to add that special writing flair that only an old fountain pen can provide.

I've been collecting vintage fountain pens since 1993 when I found a sapphire blue Conklin Endura in an antique shop in New Bern, North Carolina. I first collected Conklin Endura and Nozac fountain pens, then moved to Parker, Chilton, Sheaffer and other U.S. makers. In the last few years, I've expanded my interests to include European fountain pens: Montblanc, Soennecken, Omas, Ancora, Aurora, Columbus, Conway Stewart and especially English Parkers. Most recently, I've come to enjoy Asian fountain pens, especially Pilot Namiki. I consider myself an advanced collector - I only sell pens to fund my own fountain pen interest (addiction ;)

I Collect vintage fountain pens for a number of reasons. First, they are simply beautiful, made in different materials, colors and patterns . They also provide a pleasing writing experience, especially when you've discovered that perfect nib. Finally, they represent an important part of world history. The period from 1900 to the 1960s is full of significant events: World War I, the Wall Street Crash, the Great Depression, World War II and the Cold War. These vintage fountain pens were used to record those events. They provide a link to that history for me.

Vintage fountain pens are also technically interesting because of the great variety of ink filling systems used. The fountain pen companies competed with one another to develop the most technical and unique filling systems possible. This presents a real challenge for collectors who want to actually use their pens. Fortunately we've got a number of resources to aid our technical problem: "Da Book" by the late Frank Dubiel and Pen Repair by Jim Marshall and Laurence Oldfield have an important place in my library. I restore nearly all of my fountain pens.

Contact me if you have one fountain pen or a collection you'd like to sell or trade.

If you want to purchase one of my fountain pens, please email me at daynix@aol.com. I am open to offers and I'll work with you to ensure we are both pleased with the transaction.

I ship worldwide (usually daily) and prefer paypal, but will work with you if you desire a different payment method. My goal is to build a relationship, not just a fountain pen collection.

Thanks for visiting.

---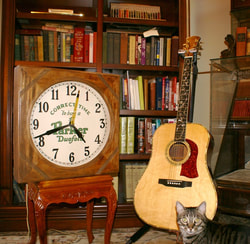 1. As an academic, I believe it is very important to give creative credit where due. Pete Kirby's website provided inspiration for my own. Pete is a great guy and has some truly amazing pens. Visit him at www.petespenshop.com